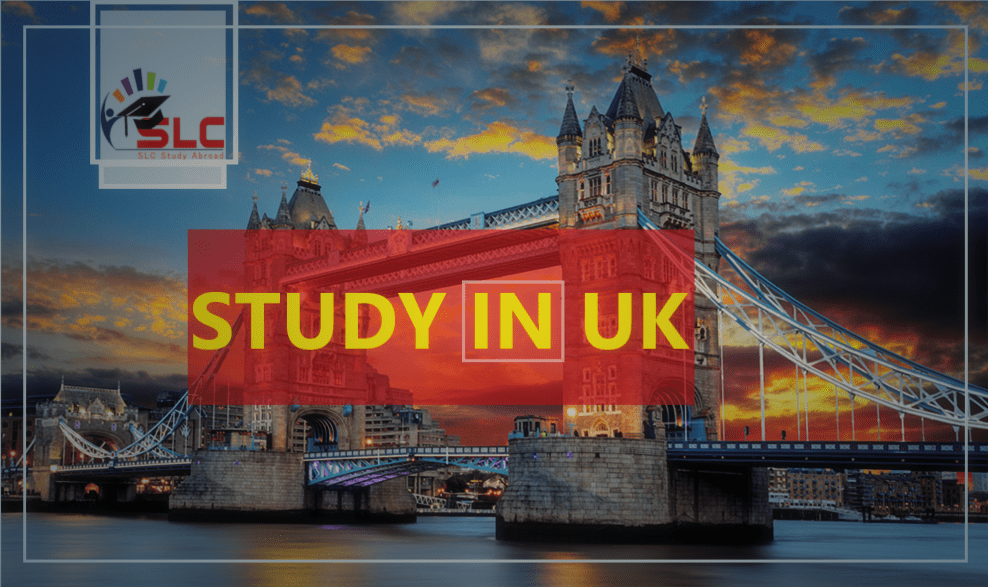 Study in the UK
Find why the UK welcomes nearly 500,000 new students each year, the reason is to offer world-class teaching, fantastic place for living, great reputation in the world, and leading universities for global workplace. 
You should discover United Kingdom as a first destination to study abroad if you would like to expand your knowledge and future study career. There are many reasons that the make it an amazing place to study such as diverse culture, fantastic place for living, top-notch distinguished teaching methodology, great study reputation, excellent educational infrastructure, top leading universities, colleges and schools, quality research, innovation Centre, and rich heritage.
It is not wonder that number of international students has been increasing rapidly to study English language, Pathway, undergraduate and postgraduate degrees. Whether you have considered the UK or not for your future study destination and you might be on the fence to choose the UK to study.
SLC STUDY ABROAD will help your dream of studying at a UK University by providing free consultants trained by British Council.
Here are some tips, factors or reasons why you must study in the UK.
High Quality Education:
Quality standards for UK Universities are among the best in the worldwide rankings.
One of the world's most popular destinations for international universities to study different qualifications, UK universities constantly make well in the worldwide rankings with having great reputation for world class research.
Many of the world leaders have been studies British education that has had a huge impact on the modern Society. A few from the current generation include Bill Clinton, Manmohan Singh, Imran Khan, Benazir Bhutto. Mahatma Gandhi and Pandit Jawaharlal Nehru were also products of British Education.
The Degrees and qualifications of the UK universities are recognized worldwide among employers and academics.
There are many opportunities for students and professionals to grow their skills, knowledge, critical thinking, and connections to drive forward their future careers.
Most of the UK Universities are offering high quality postgraduate study opportunities with offering scholarships for international students and sponsorships to extend Tier 4 Visas.
International Recognitions: 
The quality of the universities in the UK leads your degree will be held in high regard by employers the world over, giving you an edge over other applicants.
International Companies and organisations look for candidates with an international exposure yet with knowledge and skills comparable to their home country.
With an increasingly globalised world economy it is imperative to have a degree which is accepted worldwide.
You're amongst, as a graduate from a UK university, an unbelievably talented alum – the British Council estimates that 38% of Nobel Laureates who studied abroad did it in the UK.
UK education being widely recognised easily provides this and more.
Modern & Conductive Learning Environment:
UK is the most popular study destination in the world because of its quality of education and modern & conducive learning environment which advocates a vibrant, creative and challenging environment to grow versatility in your attitude. UK Universities use a variety of teaching and assessment approaches to inspire independence. The teaching is interactive and extremely relevant to the industry with emphasis on practical knowledge and skills based approach.  It's flexible education system suits all streams of students and gives countless carrier opportunities worldwide.
Good quality of Education: 
The Quality Assurance Agency (QAA) is responsible for teaching quality and general facilities of all universities and colleges.
Academic Courses: 
Most of the UK Universities are offering high quality undergraduate and postgraduate study opportunities. The UK education system offers a number of courses, out of which you can choose course of your interest and stream accordingly.
Multi-Cultural Society: 
UK is known as a cosmopolitan country in every possible way.  Studying in UK is an opportunity to experience a multicultural environment, meet new people and fellow international students from across the world, people from most nationalities/origin can be found across the UK, and discover new places that will develop a range of skills in you which is necessary to be part of today's global workforce.
Affordable: 
There is great opportunity to international students could choose full-time course and fast-truck courses in Undergraduate and postgraduate degrees offered in UK are generally much shorter than other, which results in lesser tuition fees and living expenses. It further insists that the programmes in UK are shorter (3 years for undergraduate programmes as full time, 2 or 2.5 years for undergraduate fast-truck courses & 1 year for postgraduate programmes as full time) which decrease the overall cost. Many scholarships are helping students to reduce their affordable life.
Apply For UK Universities
SEND YOUR QUESTIONS TO US
To discover more about SLC Study Abroad services and consultancy, please feel free to contact us  and fill in the contact details below, or send us a message as well. We will reply all enquiries within 1-3 working days.